Equipment
Open season: putting
---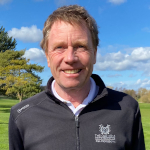 Alisdair Currie
PGA Professional Old Nene Golf & Country Club
---
Imagine finding yourself on The Open's greens; enormous, undulating surfaces with no mercy from the greenkeepers. How do you cope? Greens are always at their best at this time of year, so what better time to improve your long-range putting?
Championship course or not, putting from way-out is always tough. With that said, being able to control speed & distance will make a world of difference. Whether the green is up-and-down like a mountain range or flat as a pancake, you've got to get it rolling right. These rangy putts, where we focus on distance & pace over line, is called 'lag putting' and the goal is NOT to hole-out a Hollywood putt, but simply to give yourself a makeable second putt.
Marry up the model to the feel...
There's no better way to do this than with Mizuno's M-Craft putters. All of the models feature heavyweight stability for better distance control, helping you set up that two-putt chance more consistently. From there, the CNC deep face milling gives you more precision to attack the hole on short putts with a beautifully soft feel & pure roll. So, it's easier to go close with that lag putt AND easier to finish the job.